Losing Teeth? You CAN Reclaim Your Complete Smile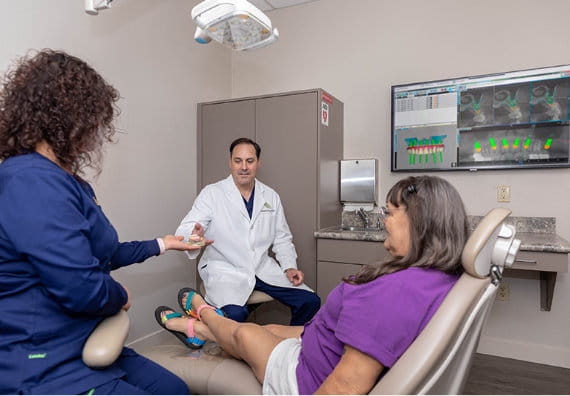 At Central Valley Periodontics & Implants, we want you to know that even if you have lost a few teeth, you can enjoy life fully. You can laugh, speak, and smile without embarrassment. You can eat all of your favorite foods. While bridges and partial dentures can help, dental implants are the best solution. They look and function like natural teeth, protect your jawbone, and are built to last. With them, you can get back your confidence and much more. Dr. Clarke Filippi is changing lives daily with dental implant treatment here in Modesto—a place Dr. Filippi is proud to call his hometown. A board-certified periodontist, Dr. Filippi undertook three years of advanced, specialized training in dental implants and soft tissue treatments after he completed dental school. Since then, Dr. Filippi has further honed his skills with implant training from the celebrated Pikos Institute. He has provided consistent, exceptional results to patients with implants and more since 2001, whether their dental health issues were simple or complex. See what he can do for you. Request an in-office consultation—you have everything to gain!
What Dental Implants Give You
A stunning, healthy, full set of teeth
Carefree smiles, laughter, and conversations
A full, satisfying selection of food choices
Improved overall dental health
A Fully Restored Smile In 3 Steps
One-on-One Consultation and Examination
Most people who come to us already qualify for dental implants. Those who do not can usually become candidates with a few preliminary treatments. Dr. Filippi will establish this in your initial consultation. This visit will give him a chance to learn what you want to achieve with your new smile and determine how best to achieve it. As part of this process, he will capture 3D images of the proposed treatment area with our in-house cone beam CT scanner. This revolutionary technology works in just seconds with a fraction of the radiation output of conventional CT equipment, making it very convenient for you, and actually safer. Using the images he captures, Dr. Filippi is able to virtually plan out your implant placement procedure offering predictable, desirable results.
The Placement Procedure
Nervous about dental implant placement? We will keep you stress-free throughout with our sedation options. Licensed by the state of California to personally provide IV sedation, Dr. Filippi is known for anxiety-free dental surgery. Once you're sedated, Dr. Filippi will perform any of those preliminary treatments mentioned above that you may need. He can offer gum disease treatment before your surgery and can typically do any related tooth extractions or bone grafting during the very same visit as your implant placement. With those aspects of your treatment out of the way, the next step is to precisely insert implants into your jawbone. Virtually pre-planned, each implant will be placed at the angle and depth for lasting security. As a periodontist, Dr. Filippi is a specialist in preserving and restoring the health of all the supporting structures of your teeth. Following implant placement, he uses guided tissue regeneration to help ensure a smooth healing process. This involves placing a natural membrane that will act as a barrier between the bone and the gums that surround them, allowing each to heal fully without interfering with the progress of the other. Once this is in place, he will send you home to begin your healing process.
Healing and Final Restorations
You may have minor discomfort in the days after your implant placement, but this is usually manageable through medication. Over the following months, your implants will fuse with your jawbone in a process called osseointegration. When that process is complete, you will see your general dentist or specialist to have your final restorations put in place. The bridge will give your smile the strength, confidence, and beauty you have always wanted—for many years to come. Dr. Filippi would be proud to help you prepare for that life-changing transformation. The first step is up to you!
What's A Dental Implant Worth?
Dental implants represent new teeth, but they are so much more than that! They can give you a new lease on life where you eat what you want, speak and smile without hesitation, and enjoy unprecedented self-confidence. It's hard to put a price tag on something that can bring you those benefits. The cost of dental implants is based on multiple factors, including how many implants you need and related procedures. For your specific cost, come in for a consultation. We'll explain your different payment options, including third-party financing and an in-house payment plan. Let us show you how affordable dental implants can be.