Replacing Your Missing Tooth
When you are missing a tooth or soon will be, you might think a dental bridge or a denture are your only options. That used to be true. While they generally provide good results, they are not the best solution for your lasting dental health. At Central Valley Periodontics & Implants, we can provide you with a replacement tooth that lasts a lifetime, looks natural, lets you eat, speak, laugh, and smile confidently, and keeps your jawbone from receding after tooth loss. No other solution can match the benefits of a dental implant.
Dental implants are the key to a better quality of life when done by a professional like Dr. Clarke Filippi. As a board-certified periodontist, he attended dental school and completed three more years of advanced, specialized training in implants and soft tissue treatments. He also expanded his implant expertise with further training from the acclaimed Pikos Institute. Since 2001, he has helped people here in his hometown—even those with complex dental issues—regain the foundation for a full, healthy smile. Let him do the same for you. It all starts with a consultation.
How Do you Get a Dental implant?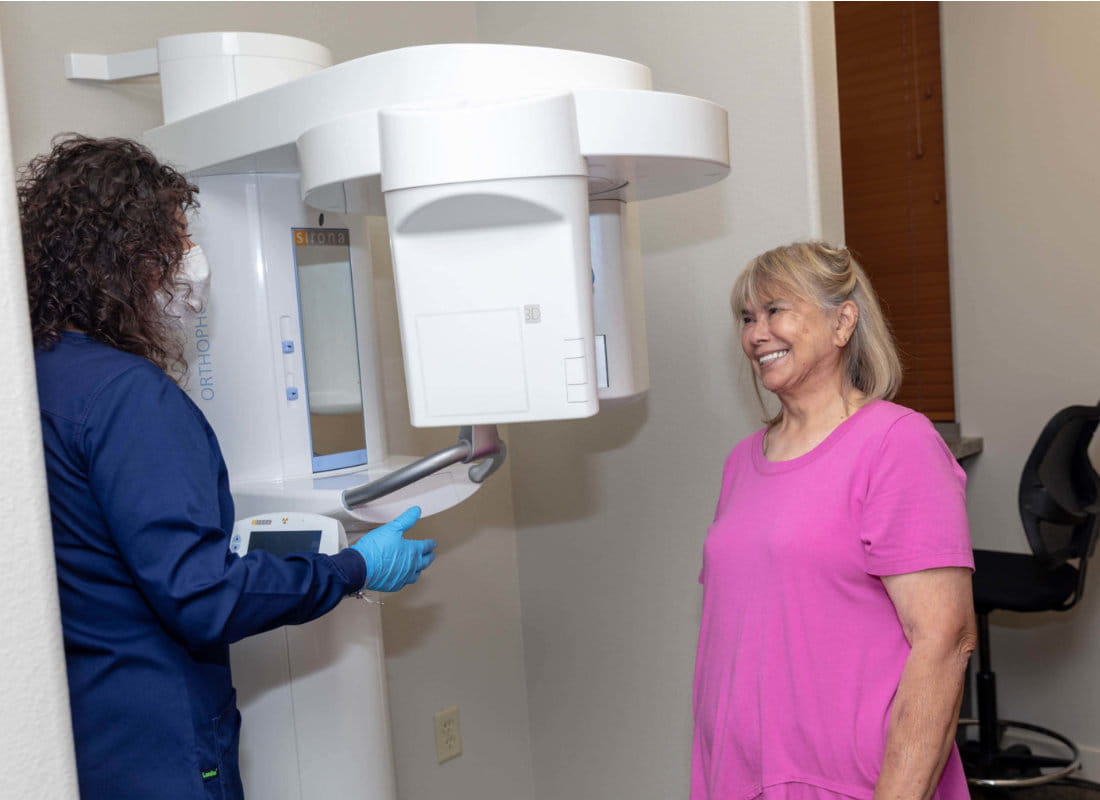 Personalized Consultation
Dr. Filippi can determine if you are a candidate for a dental implant during your first visit. Most of our patients are good candidates for dental implants. During your consultation, he will learn your smile goals and do a thorough implant examination, including capturing detailed 3D images of your mouth using cone beam CT (CBCT) technology. This scanner works quickly—about 15 seconds—and uses only a fraction of the radiation of conventional CT equipment, so it's both convenient and safe. With the complete view of the proposed treatment area that the CBCT gives us, we can begin planning your dental implant placement. We use advanced technology to complete your placement virtually before we do the actual procedure to ensure it goes smoothly and yields predictable desirable results.
Placement
When you return for your dental implant, you can expect a stress-free procedure with minimal discomfort. We offer anxiety-free dental surgery to keep you relaxed throughout your procedure. Dr. Filippi is licensed by the state of California to administer IV sedation, which leaves you with little to no memory of your treatment. If you need any associated procedures before implant placement— bone grafting, a tooth extraction or gum disease treatment, we can usually perform them during the same appointment, if not before it. Dr. Filippi will then place your implant into your jaw at a carefully planned location, considering the position of nearby nerves and blood vessels and the optimal placement for supporting prosthetic teeth. For this, we put a natural barrier membrane between the bone that will support the tooth and the gums that will surround it, giving each a chance to heal independently. As a periodontist, Dr. Filippi understands how best to protect your soft tissues. It is his specialty.
With the procedure finished, we will send you home to begin the healing process.
Recovery and Restoration
During your recovery, your implant will gradually fuse with your jawbone. Once that phase is complete, you will return to your general dentist or specialist to receive your final restoration, a beautiful crown that will make your smile whole again and allow you to do everything you would do with a natural tooth. Dr. Filippi would be proud to be able to provide you with the foundation for that fully restored smile. Reach out to our team today!
The Value Of A Dental Implant
What is the value of a dental implant? Carefree smiles and laughter. A more satisfying selection of foods. No lisp. Greater self-confidence. It isn't easy to put a price on these. The actual cost of a dental implant varies based on a few different factors. The vital thing to know is that if you need a dental implant, we will help you make it happen. We work with leading third-party financing companies and provide an in-house payment plan to help you afford that full smile you desire. Cost doesn't have to stop you from doing it.
Our Patients Tell The Story Best